2020 Season Report - Dhala and Samaki Camp, Tanzania Trophy Tigerfish
Trip Report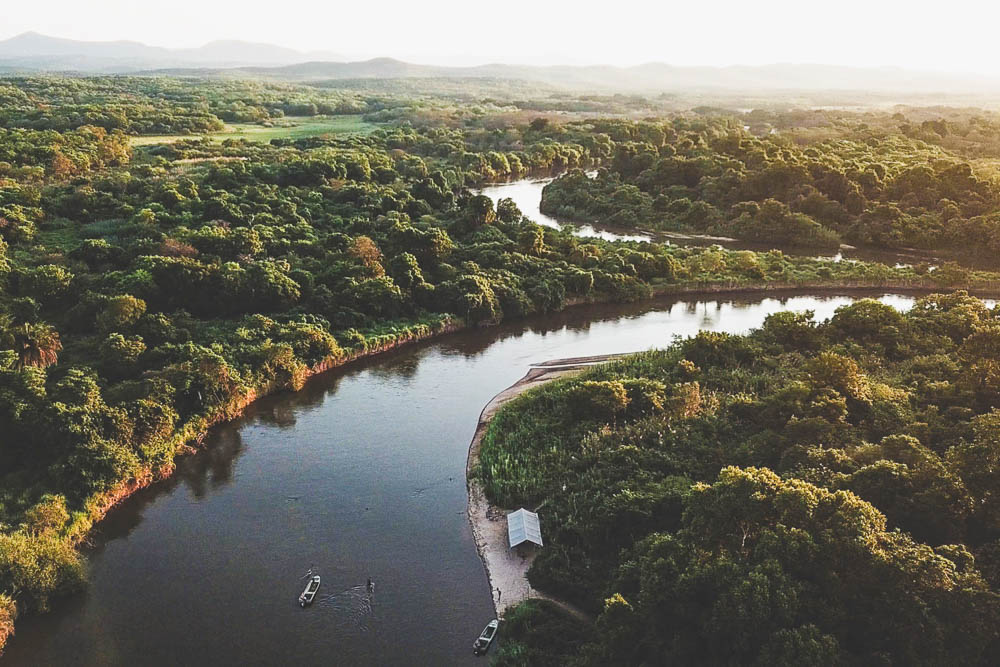 From our friends at African Waters.
​
It was with renewed vigor and excitement we opened up 2020 Tanzania tigerfish season with KNS. The normal 12 week season, being reduced to 3 weeks due to the ongoing C-19 pandemic, meant the guides, camp staff and support crew could go above and beyond to ensure all guests who made the journey to the Mnyera and Ruhudji Rivers experienced the best the area had to offer. With this 'go 'till you blow' attitude over the short season, the guides team's energy levels were at all time high and this soon rubbed off onto the guests as we got stuck into great fish from the onset.
Tanzania experienced one of the wettest rainy season in recent memory, meaning th normal low and warm water we experience in Oct/Nov, were more in line with early season August levels – cold and faster flowing. This is a double edged sword – cold and high means the fish's metabolisms are slower, so they do not feed as aggressively, and the feeding windows are shorter. But, at the same time, it ensures the fish are all in absolutely sublime conditions, fat, strong and incredibly fast with unmatched stamina due to the well oxygenated water. The guides' team of Greg, Stu, Brent, Keith, and Rob were soon onto this, and the smaller dark profile flies, fished slowly tight to stricter were the ticket.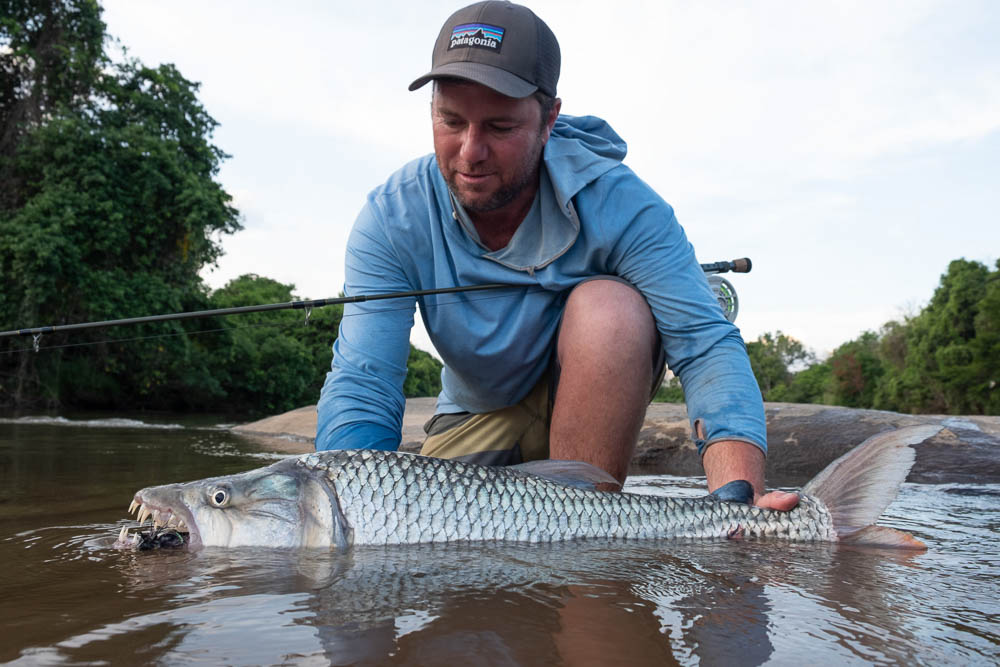 ​
Week one of the season we welcomed Thomas and Robert from Austria as first time guests, Wouter from SA was back for his 4th trip, Thomas Camp from the US was visiting for the first time, and finally Dan, Faffa, Brent and Blom from SA, also all for their first visit. Standout from the week were the reminder that slow and tight to structure continually produce the fish, as was evident from the fact that Blom and Thomas Camp both fished naturally slower and were rewarded with consistent strikes and quality fish from the start. Dan, having fished for tigerfish around Africa, was blown away by the power and ferocity of our Tanzania fish, and decided not to questions the guides on why we use 40lb leaders after he was snapped up once too many time.
Thomas from Austria started his week with a run of 12 to 16 pound fish, and couldn't seem to put a foot, cast, or strike wrong. However, after stint of 12 and 0 on strikes to landing, even this incredibly competent and focused fly fisherman was left doubting his skill levels. Tigerfish of this magnitude have this effect on anglers, and once they have a slice of your mojo, they often eat the entire cake!
Week two of the season saw return guests Ray, Kevin and Bruce, joined by their fly fishing buddies, Kempy, Coxie, Matt, Doc Sol and Will. It was an incredibly special week with this group of close friends. Great angling, laughs, brutal fines meetings, and the company of a group of anglers whose appreciation for this stunning wilderness and the fauna and flora it is home to, was matched only by their gratitude for the incredibly fly fishing.
The cold and higher waters remained a theme for this week, with long session of hard fishing, punctuated by intense action and quality fish. Standout fish were a handful in 19lb range landed by Kevin, Ray, and co with the biggest of the week taking the scales to 22lb for Kempy. Will, new to the tigerfish on fly camp, maxed out with an incredibly 17lb fish. Kevin was named angler of the week with his consistent catches through the week, showing again, that there is no substitute to experience when it comes to consistently enticing and converting quality tigerfish bites on fly.
Tanzania Trophy Tigerfish Safari, Tanzania
Chase one of the hardest hitting fish in the world.
Director of Travel Operations
Brian Gies
Let's get you ready to fish with Fly Water Travel.
We would love to connect with you to help effectively plan your trip. Our destination manager for this location is Brian Gies.