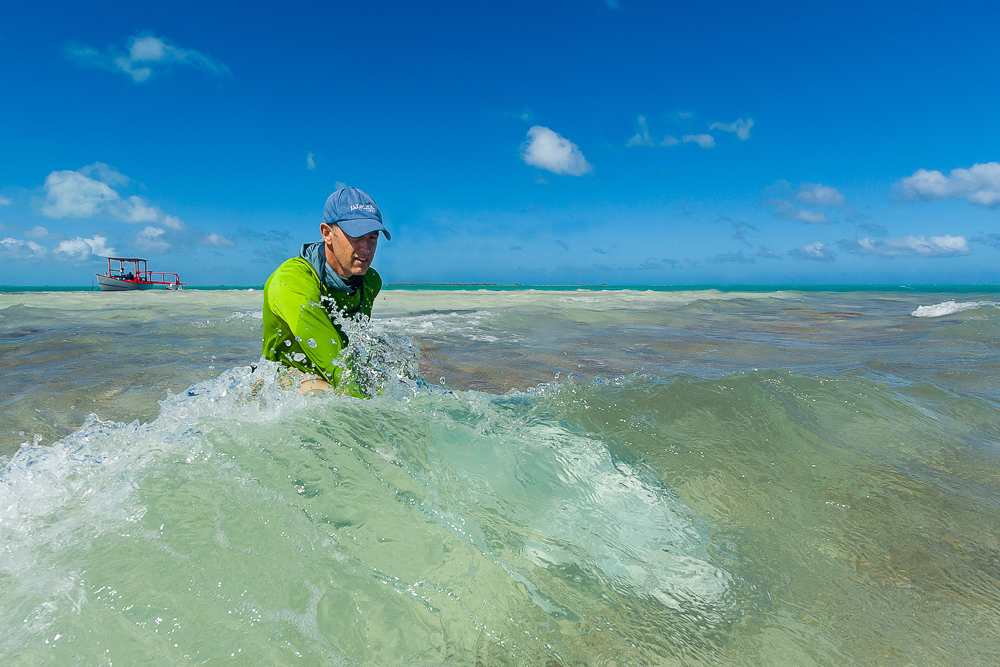 As many of you know, Christmas Island was one of the first countries to close its borders in February 2020 when the pandemic was just beginning to make significant waves across the globe. It was a confusing, scary, and anxiety filled time. In terms of our worldwide portfolio of close to 250 fly fishing operations, Christmas Island was the first domino to fall. Shortly thereafter, we watched essentially all the other countries we regularly send anglers to quickly close their doors as the world went into its first lockdown.
While the majority of the world has since reopened to travel, there remain a few countries that have not, and lack any sort of "light at the end of the tunnel" when it comes to coming back online. After much speculation and waiting regarding Christmas Island, we are pleased to report that we now have such a light in front of us. However, in our opinion, while this light represents a positive step in the right direction, it is not yet a slam dunk reopening plan that we can confidently hang our hats on. The latest news is that Fiji Airways, the airline that operates the weekly flight between Honolulu and Christmas Island, has announced plans to begin flying to the island again in early April 2022. This comes a few months after an announcement that Kiribati was planning to open its borders at the start of the new year (January 2022). However, as many of you understand, an open Kiribati border doesn't mean much to the traveling angler unless regular flight service has been resumed.
With this latest announcement, guests can now purchase airfare to and from Christmas Island for trips on or after April 5th, 2022. As was alluded to earlier, Fly Water Travel remains cautiously optimistic about this reopening. It is still unclear what the travel requirements will be for incoming anglers. For example, a few questions that remain up in the air are:
- Will proof of vaccination be required?
- How/where will anglers receive covid-19 tests to stay in line with entry/exit requirements set by the Kiribati government and the US State Department?
- Will there be any sort of quarantine requirement?
Additionally, the status of the island and its infrastructure remains an important question. While we have been in regular communication with our partners on the island since the pandemic began, it is difficult to truly understand how life on the island and the ability to host guests has changed until Fly Water Travel can get boots on the ground. Accordingly, we will be there as close to the proposed reopening date as possible. And while we are confident that the island can begin operating again quickly, we expect changes will have occurred that cannot be instantly rectified. Given its remote location, the length of time that it has been shut down, and the pre-existing challenges of properly supplying the island with everything from food to outboard parts, we want those that are on the front-end of return travel to expect potential changes and challenges that may not have been expected pre-pandemic. While it is hard to say what an appropriate experiential price might be for stepping onto the world's finest flats that have been rested for two solid years, we would think it somewhat naive to imagine that it will be entirely free.
With that being said, we have started to take bookings for the summer and fall of 2022 for those who would like to reserve their spots. For the time being, these bookings are still falling under Christmas Island Outfitter's "Covid-19 Risk Free" booking policy until further notice. That policy is outlined below:
For all trips canceled due to closures resulting from Coronavirus pandemic travel restrictions, the destination will offer a 100% cash refund if the cancellation is 30 days or more before the trip start date. If the trip is canceled within 30 days prior to the trip start date, the lodge will rebook the same length trip in a future season at no additional charge. For all trips canceled when travel is possible, all payments will be non-refundable unless a suitable replacement is found. Special situations and emergencies will be taken into consideration to the best of the lodge's ability.
For those who would like to book their spots for 2022 at this time, please know that space is becoming more and more limited as the days pass, so be sure to call us soon if you would like to get your name on the calendar. Once you book your spots, we are recommending that guests call Vanessa at Ultimate Vacations in Honolulu shortly after to reserve airfare. Seats on the weekly flight will surely become a limiting factor if/when the island reopens. Here is her contact information:
Vanessa Vartanian, Ultimate Vacations
808.949.8100
vanessa@ultimatevacations.us
Fly Water Travel shares the excitement of the greater fly angling community with news of a possible reopening of Christmas Island. We cannot wait to start sending anglers to the "ultimate atoll" again, and we are thrilled at the prospect of getting the guides and staff of Christmas Island Outfitters and Sunset Horizon back to work after more than two years without any anglers. We will continue to keep you updated over the coming months as new information comes to light. In the meantime, please know that we are here and happy to answer any questions you may have.
Thank you and tight lines,
Andy Archer
UPDATED: 11/17/2021