2021 Season Report - Erfalik Lodge, Greenland (Part Two)
Trip Report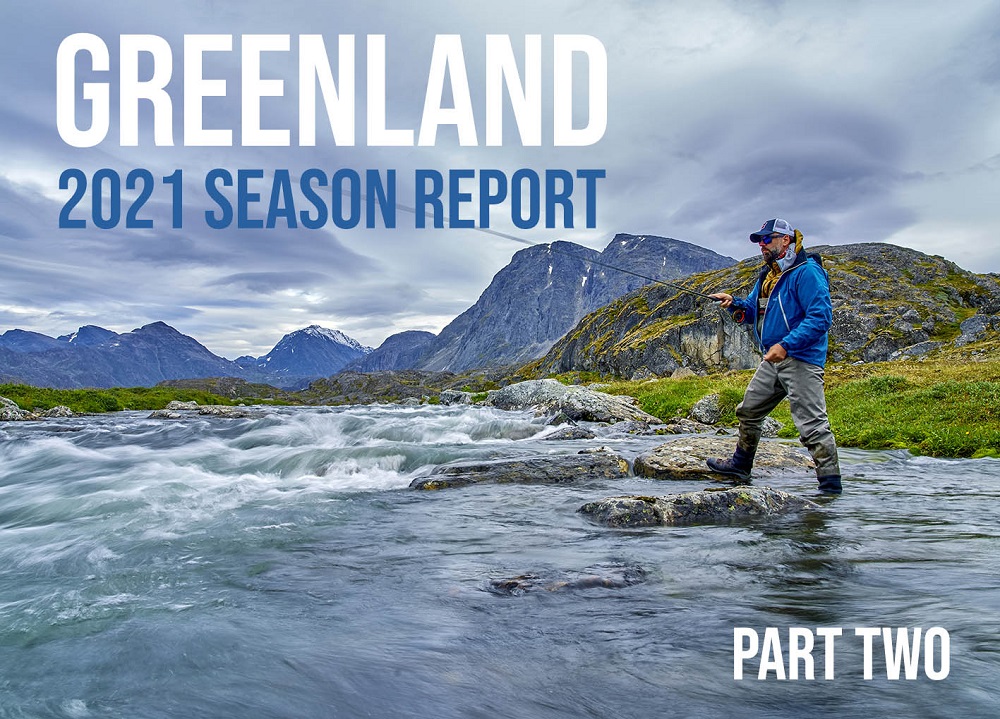 Our friend Thomas from Getaway Fly Fishing and Erfalik Lodge sent us part two of his season report. If you missed it click the button below to read part one.
During our fourth week at the Erfalik Lodge, we saw a significant weather change – sunny days and warmer temperatures. Typically, such weather will slow down the fishing in the afternoon, and this week was no exception. Therefore, it was decided to start fishing super early, and then serve brunch/lunch in the afternoon, for those who wanted to return to the lodge for a break.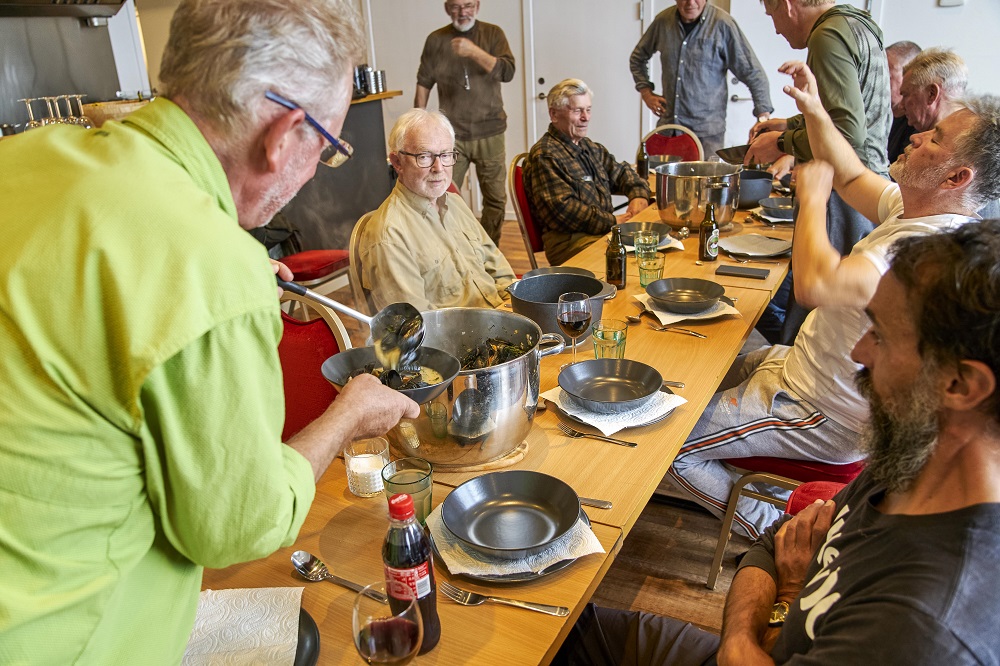 The strategy worked – and maybe a taste of real of summer also woke up the fish. During the second half of the week the fishing was on fire. Many of our anglers – including Greenland-regulars Henrik and René – caught an impressive number of fish, and some pretty big ones as well. When I came into camp with the fifth group in early August, and the fourth group was on the way out, it was big smiles all around, and promises of us hitting a "crazy good week".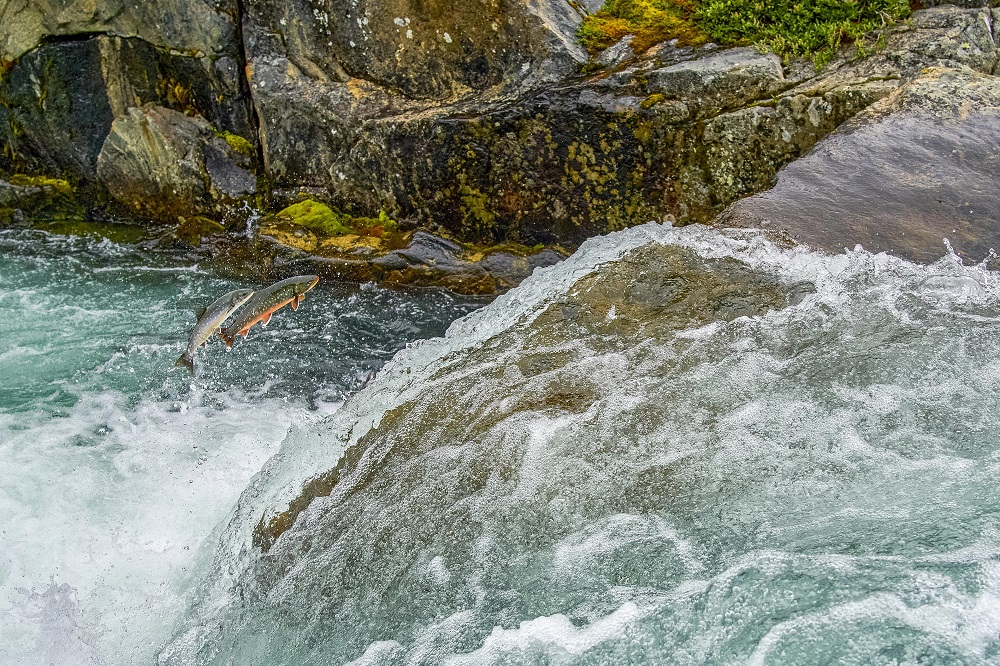 My week at the lodge was indeed crazy good, how could it be anything else with such company, such scenery and such great food? However, I have seen better, and especially easier fishing on Erfalik. The first couple of days, I concentrated on getting everyone off to a good start, and when I did make a few quick casts here and there – and my ego expected me to catch fish right away, it didn't amount to much. Then, as the week progressed and our anglers all found successful ways to hook up, I could start experimenting with different flies, until I found out what worked this week. Much to the relief of my ego…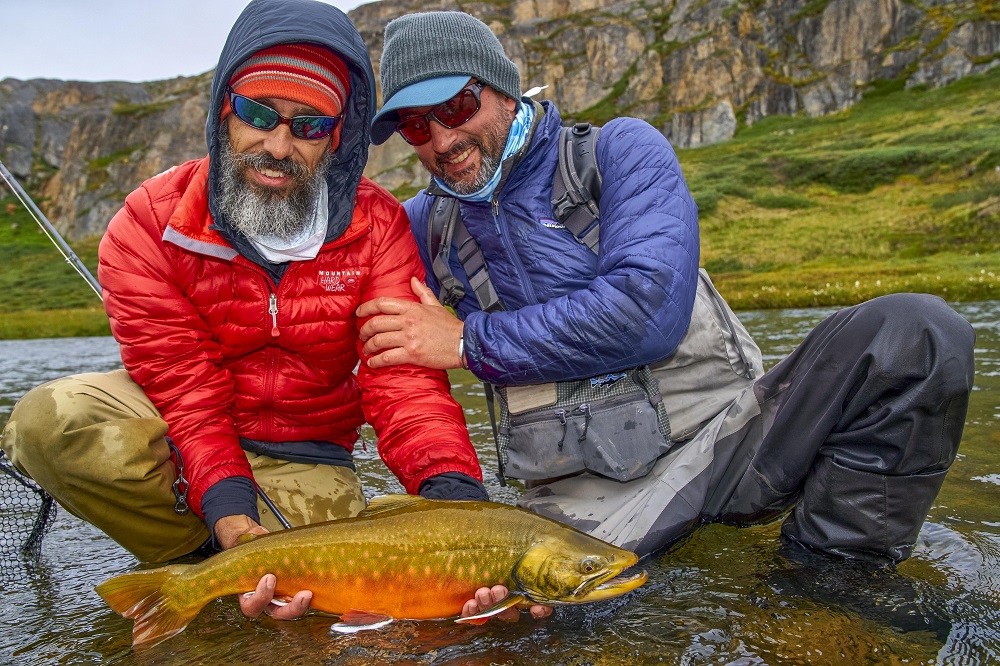 Our Spanish-Norwegian fishing machine Carlos led the way with heavily weighted black streamers (something, we usually don't fish much) – and Poul Erik, a retired Danish doctor, had a handful of small Blue Charm streamers, tied with a heavy gold head, that turned out to be total killer flies for this week. He was generous enough to share them with some of the other guests. Especially our German friend Richard put one to good use. He pulled out one char after the other, until the fly was almost just a hook with a gold head. Fortunately, I had a handful of Cowboy Flies tied with a similar gold head. They had never really worked for me before, but this week they were absolutely deadly.
Our future Camp Manager Aurélien showed the way with nymphs, as did Sebastian with a light and dedicated Euro-nymphing setup.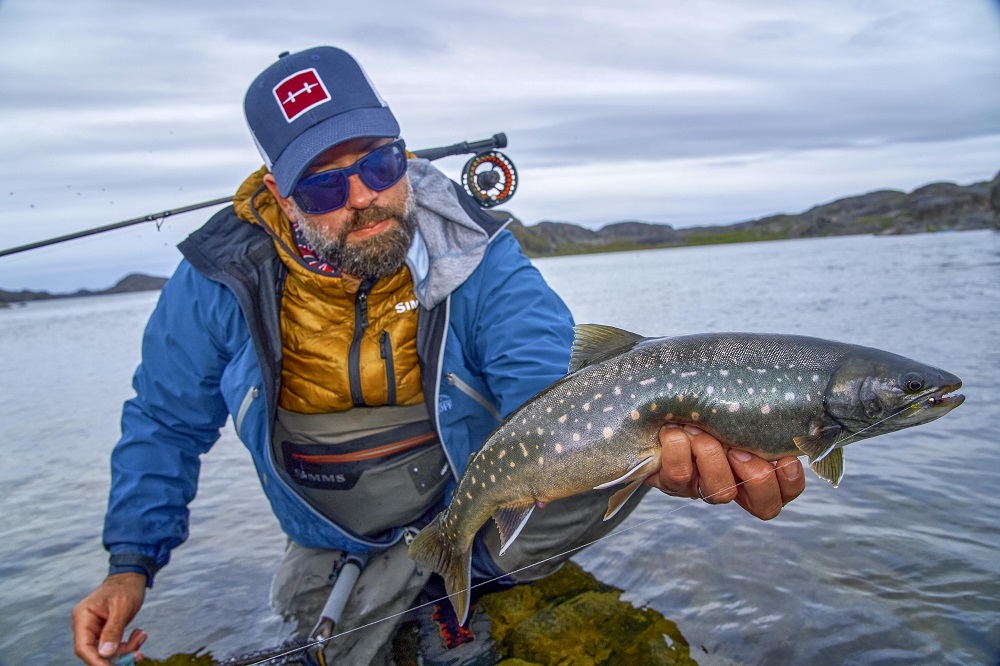 My highlight of the trip was "discovering" a part of the river that I had never fished before: Some five or six kilometres from the lake, the Erfalik River enters a narrow canyon, and the water becomes too fast to fish – for as far as the eye can see. Last year, new satellite images on Google Earth revealed that if one hiked far enough, the river would slow down and open up for another couple of kilometres. Judging from the satellite images, it looked very fishable, too. This year, with our guests Carlos and Magnus, I finally got to check it out and fish the very upper part of the river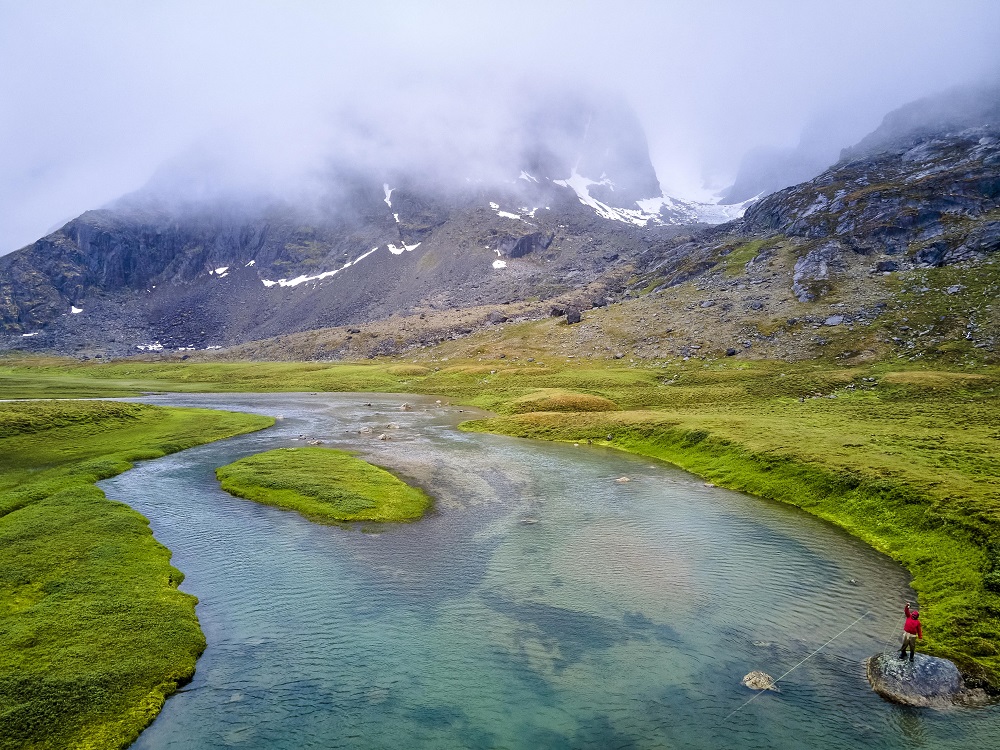 This day could have been a report of its own. The short version is this: The river flowed majestically through a lush-green meadow, below steep mountains with their tops hidden behind low hanging clouds. As we made our way to the first pool a herd of some twenty reindeer took flight along the foot of the mountains. We found great streamer fishing, even more spectacular foam fly fishing – and we only got to explore a small part of the water. It was pure magic, and though a bit cliché-like, our new discovery was instantly named "Paradise Valley"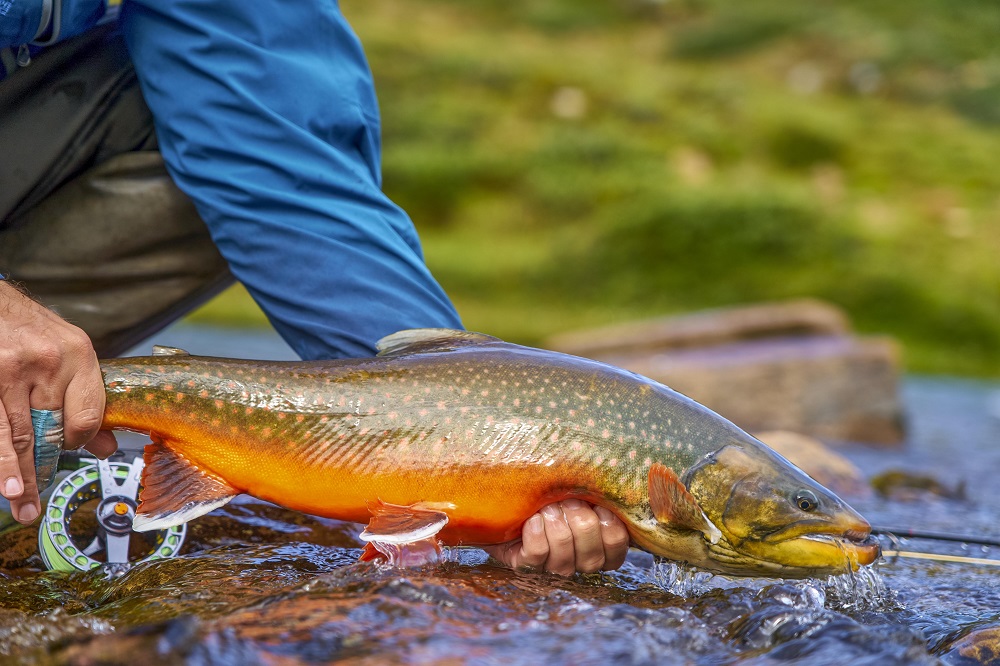 In the late afternoon, we started our descent from some 900 metres above sea level. We didn't want to miss dinner but shortly after beginning our hike, Magnus called for a break. Already? Why? Accompanied by a smug smile, he miraculously produced a half-bottle of Bollinger and three glasses from his back pack – I hadn't seen that coming! Carlos, high on adventure and great fishing, proclaimed, "This is one of the best fishing days of my life". I didn't need the champagne-buzz to kick in, to fully agree.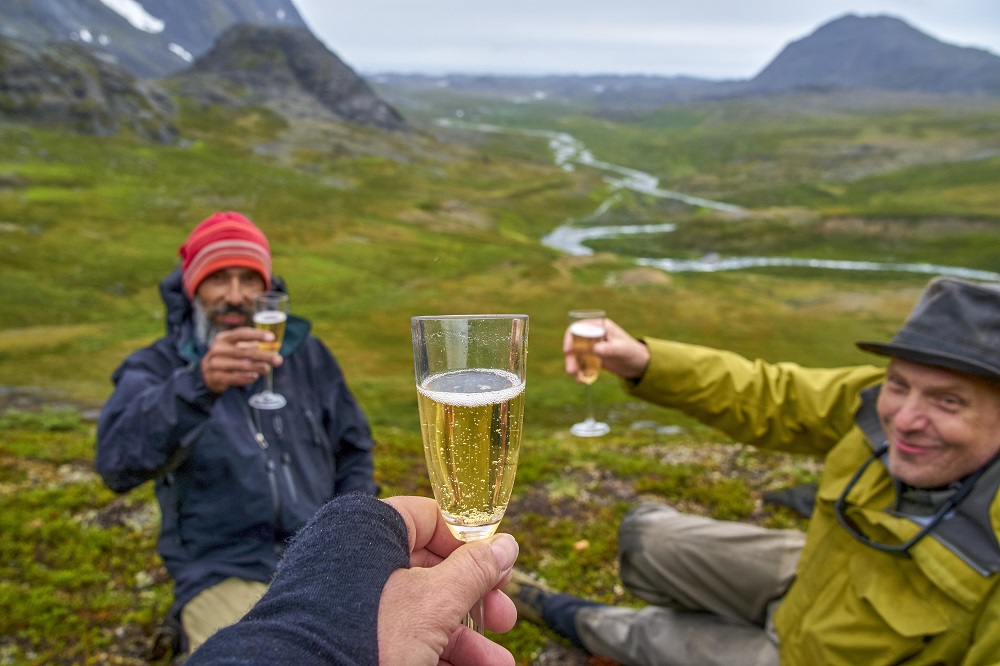 Destination Manager
Max Salzburg
Europe, New Zealand,The Jungles
Let's get you ready to fish with Fly Water Travel.
We would love to connect with you to help effectively plan your trip. Our destination manager for this location is Max Salzburg.